Artificial Intelligence, abbreviated as AI has been growing at a fast rate. It is sooner that almost every industry including e-commerce would bow in front of this future technology. The statistics are quite interesting and projects that the online sale of physical goods would reach over $450 billion by 2024. Among all the categories sold online, apparel and accessories retail sales would reach over $150 billion in 2024.
With an increase in the application of AI, the e-commerce industry is evolving in leaps and bounds. The fact that one out of five consumers does not face any trouble purchasing goods with the help of the chatbot, says it all. The noted surge in the sales of the online retail industry is certainly not a coincidence. The various chain of advancements pertaining to AI has given e-commerce a reason to flourish more than ever.

All these transformations in the way we deal with online help and searches related to our orders are just the start of the huge change waiting down the line, a few years later. As per the predictions made by comScore, 50% of the online searches will be initiated using voice commands by 2020. Today, standing in 2020, we can clearly visualize the same nodding for the evaluations made years back. We are progressing towards a hands-free experience. And, it is definitely helping people in a lot of ways.
So, why not find out how the e-commerce industry is taking every favor that this future technology has to offer to the niche? In this article, I have explained a few major applications of AI assisting Ecommerce to rise above its predicted boundaries. Making room for better customer experience along with the ease of managing operations within organizations.
How AI, the Future Technology is Helping Ecommerce Better its Results?
Through various AI applications, eCommerce has shown an impressive increase in its popularity. Consumers now prefer ordering from the comfort of their homes instead of driving to the shopping complexes. So, how AI is helping in providing consumers the needed trust? Also, the flexibility to find the items they wish to buy?
Well! There is not just one way but plenty of different ways that this future technology is assisting the industry to realize its true power. Among many already followed and existing tricks for increasing profits, there are many that can be powered with AI for better results.
From chatbots to providing recommendations, AI has come a long way by now already. So, here are a few applications of AI that would help understand how it contributes to the growth of the online retail market.
Enhanced Search Results
One of the major reasons for consumers to end up with a dead sale after spending quite some time searching on the eCommerce platforms is the irrelevant search results. Yes, it happens to many of us. Do not trust me? Why not ask Twiggle's CEO, Amir Konigsberg. In many of his interviews, he points to this struggle that leads to consumers switching to the offline shopping option.
Hence, to figure out the solution for the same, Amir's company makes use of natural language processing for further narrowing down and contextualizing the search results for improved output.
Another notable improvement is the advanced ways of searching for videos and images for the exact result. Using the capabilities of machine learning, Artificial intelligence figures out the appropriate tags, searching the content based on the labeling features in videos and images.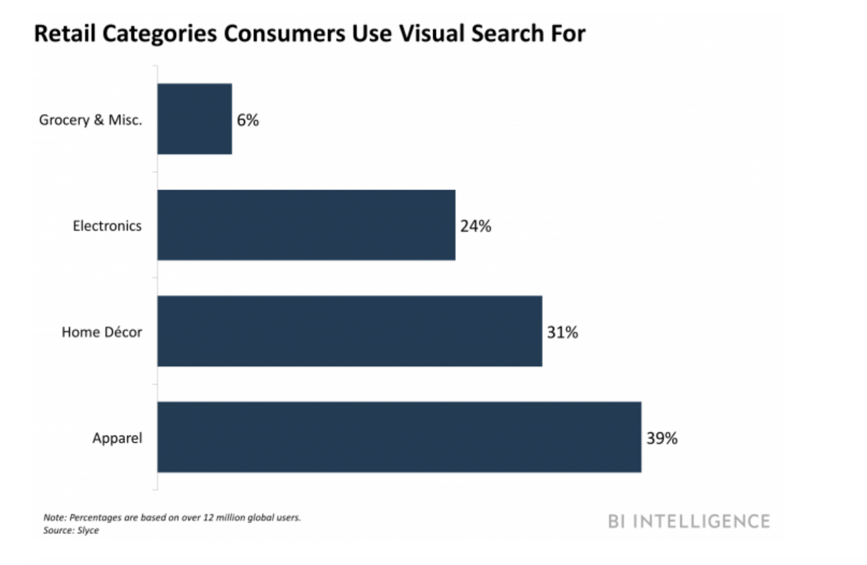 All these upgradations to the existing search have added more dimension to the search capabilities for the consumers in recent years. Hence, offering consumers improved search output and most relevant results.
Lead Generation and Retargeting Potential Consumers
Sorting the unmanageable customer data is not an easy task. Rather it is more of a mess when stays unorganized. Hence, companies must work essentially for planning ways to put these data into a meaningful order.
For instance, the search history of each consumer could help us find out the relevant leads who would be interested in our products. Not just that, those who have already opted for our products before could be more interested in our current offers than the customers who haven't. Taking these points into consideration, companies can build better sales plans. From lead generation to conversion to revisiting the old customers. See, the complete cycle matters.
And, it won't be possible unless one involves AI to do the tedious task. Knowing that almost 33 percent of marketing leads are left behind, unapproached sounds like a huge loss.
Beat Reviews That Are Not Legit
Where there is an uncountable number of advertisements surrounding consumers, the potential of getting heard by brands becomes too low. That is why reviews play an important role. If you look at a recent study by Dimensional Research, 86 percent of the consumers changed their decision after reading the negative reviews of the products.
It may be helpful for consumers in a way, however, what if the reviews are fake? Not only brands suffer from customer abandoning their products, but consumers too. Consumers often fall prey to fake reviews and fail to experience a product that is worth trying.
With AI, brands can resolve this problem. By focusing more on reviews by verified customers or those that have been helpful to consumers, brands are able to fight to astroturf. From Amazon to Flipkart to many other e-commerce platforms, the usage of AI has provided these companies with a better and efficient way of fighting against fake reviews. Hence, allowing consumers to make informed decisions based on genuine notions.
The Verdict
AI has been able to resolve barriers that once believed to have become part of the tricky system. In other words, the unresolved issues restricting eCommerce from enjoying the imaginable profit, are now just in the past.
Today, brands and companies are able to provide consumers more personalized experience than ever. Moreover, being able to keep their privacy still intact. This promising technology has made it easier to focus on the right things, instead of beating around the bush.
Either you are an old online shopper or someone who recently moved from offline to online shopping, AI would certainly help you embrace the difference in the shopping experience that comes along with this future technology.